If you are a tourist in Iceland and are interested in exploring lake fishing, there are various options available. There are many lakes in Iceland and many of them are easily accessible. However, it is the case that those located at a considerable distance from settlements often have more charm and can also be quite productive.
First of all, the Fishing Card should be mentioned. It allows its owner to fish in 37 lakes around the country and camp free of charge by many of them.The Card comes with a nice booklet that contains basic information in English. There is also information on how to use the Card on www.veidikortid.is
The Fishing Card is addressed to one person, must be marked with an identification number (social security number) and must be shown to a fishing guard or landowner before fishing begins. The Fishing Card can be bought at gas stations e.g. N1 station, or Olís stations and in angling stores throughout the country. It cost 8.900 ISK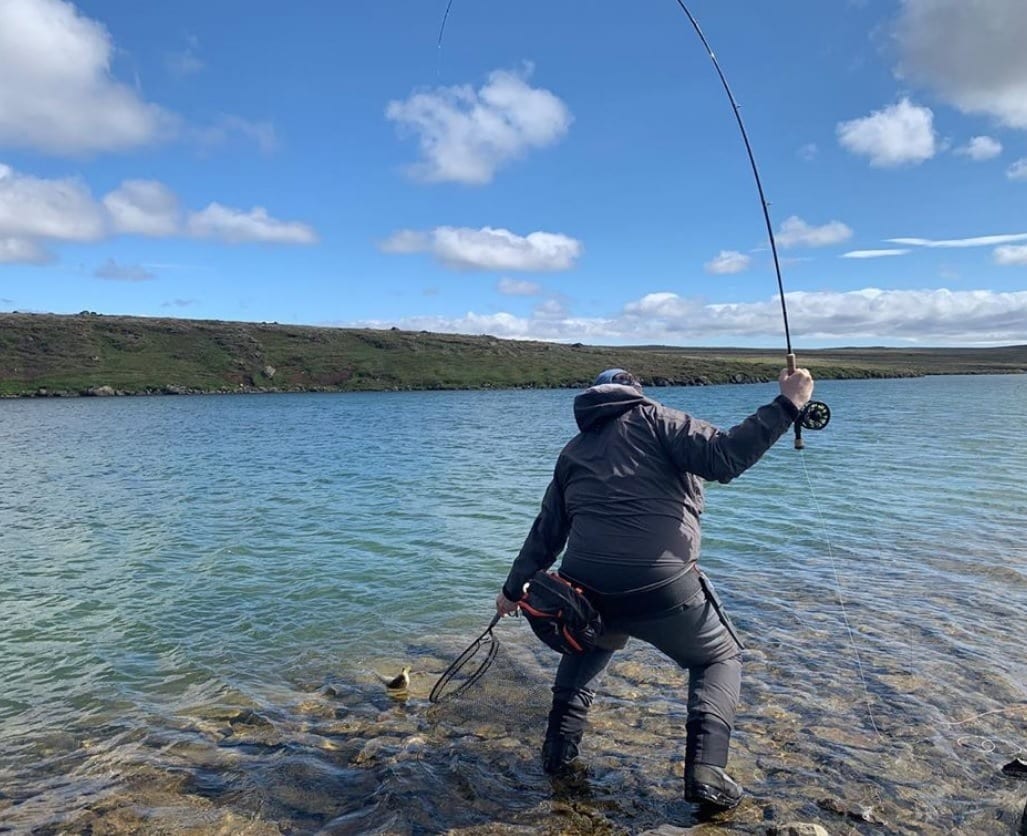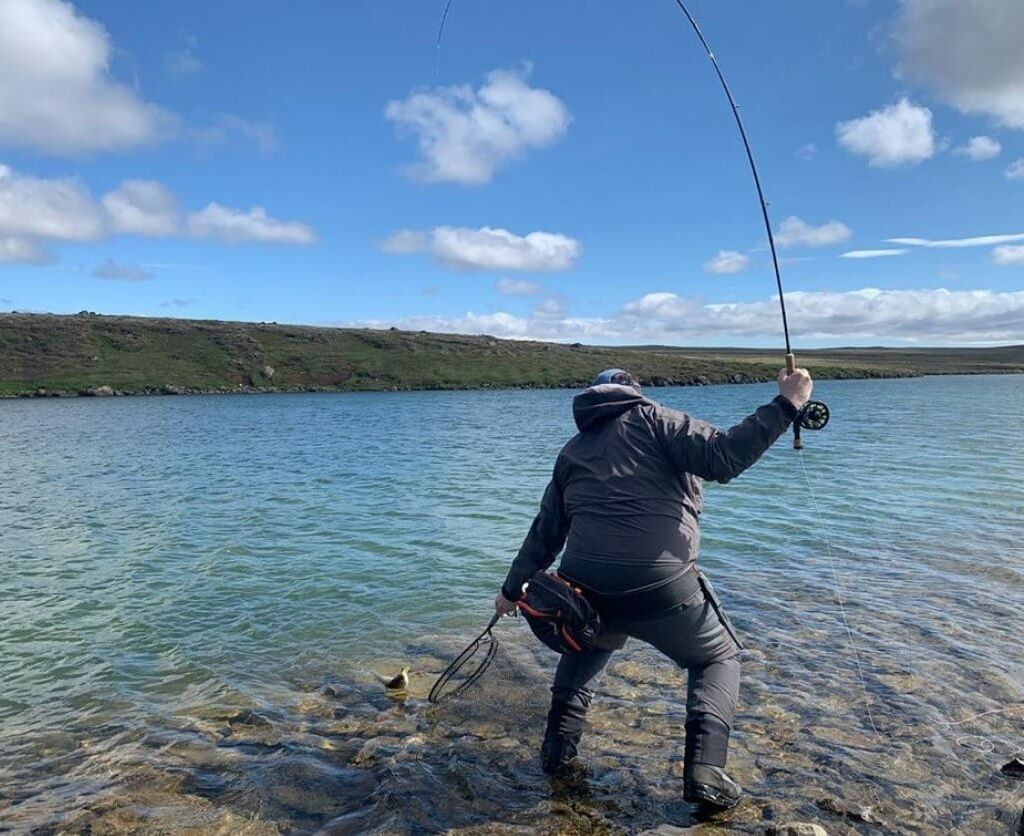 If the plan is to stay in the capital area and there is no time to go far, the following lakes are ideal; Elliðavatn, Vífilsstaðavatn, Meðalfellsvatn and Þingvallavatn. The lakes Kleifarvatn and Djúpavatn are also in a short distance and in a spectacular environment. Of these two, lake Kleifarvatn is only on the Fishing Card.
At Mýrum and Snaefellsnes Peninsula, which is interesting to travel around, are many good lakes and lake clusters. The ones on the Fishing Card are as follows: Baulárvallarvatn, Hítárvatn, Hlíðarvatn, Hraunsfjarðarvatn, Hraunsfjörður (lagoon) and Langavatn. These lakes have variable access and it is necessary to use a jeep in some cases. On the Snaefellsnes Peninsula is the Lýsa lake area, several lakes that have streams flowing between them. The whole area offers good fishing prospects and is a popular area for families, with easy access and good accommodation options nearby.
By going further west and even to the Westfjords, lakes like Hólmavatn, which is on the Fishing card, and Haukadalsvatn in Dalasýsla are the first that keen anglers should check. In the Westfjords, it is mainly Berufjarðarvatn, Sauðlauksdalsvatn and Vatnsdalsvatn which are interesting and they are all on the Fishing Card.
Next is to mention the main possibilities in Northwest Iceland. There are some good single lakes that are on the Fishing Card, but there are also some exciting lake clusters at the heaths that should definitely be mentioned. The following lakes are on the Fishing Card: Svínavatn, Sléttuhlíðarvatn and then the Ölvesvatn area, with nearby lakes and streams and lies on the Skagaheiði heath. There are other heaths that offer great possibilities e.g. the Arnarvatnsheiði and Grímstunguheiði, which are best approached by jeep. There are also good rivers and streams that flow between lakes with a lot of fish in most of them. Here it is good to have a net or mosquito spray as a protection from midges.
In Northeast Iceland are many popular lakes and some of them are on the Fishing Card. The best known are Ljósavatn, by road nr. 1, and Vestmannsvatn but they are both a short distance from the town Akureyri. Not so far from them are the lakes Langavatn and Kringluvatn, which are both decent fishing lakes. The lake Kringluvatn can only be approached on a jeep. Lake Skjálftavatn is an exciting option, but from it flows the well-known river Litlaá. It is known for large fish, both Arctic char and brown trout. Melrakkaslétta is a big heath with many lakes and the ones most practiced by anglers are: Hraunhafnarvatn and Æðarvatn, both on the Fishing Card, and the two Rifsæðarvötn which have to be accessed by jeep.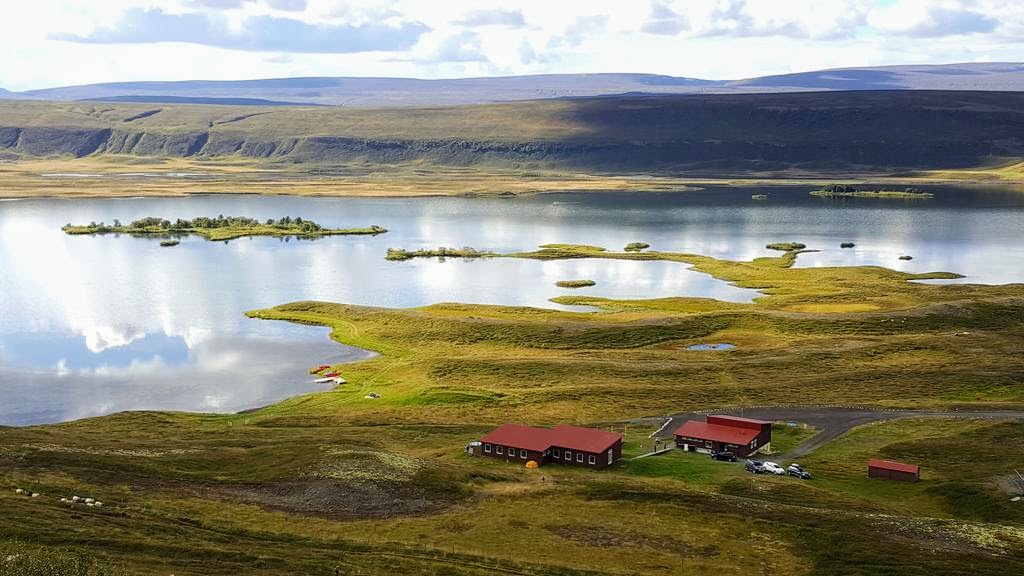 Some people think that East Iceland is the most beautiful part of the country. There are some natural gems and there are some good fishing lakes. As elsewhere in the country, there are several lakes that are on the Fishing Card. The lakes Sænautavatn, Urriðavatn, Haugatjarnir and Skriðuvatn should be mentioned. By Lake Urriðavatn are Vök baths which attract a lot of tourists. Other lakes to be mentioned are Selvatn and Grafarvötn.
At last, are lakes that should be mentioned in the south. There are an enormous number of possibilities, and unfortunately only the main ones can be mentioned. Lake Heiðarvatn is ranked among the best fishing lakes in the country. It is known to have large fish, especially sea trout. The magnificent Veiðivötn are so popular that it is difficult to get a fishing license. This is a cluster of lakes, about 50 in total, and there is a lot of very big and powerful brown trout from the ice age stock. The so-called Framvötn attracts a lot of anglers because of the beautiful surroundings and proximity to Landmannalaugar. The most popular are Frostastaðavatn, which is on the Fishing Card, Löðmundarvatn and Ljótipollur. About an hour away from Reykjavík are the lakes Laugarvatn and Apavatn, which are both popular lakes and especially by families.Then this review is coming to an end, but finally, the numerous areas that are available for giant brown trout fishing in Lake Þingvallavatn should be mentioned e.g. The ION area, Lake Villingavatn, Villingavatnsárós, Kárastaðir and Svörtuklettar.
In most cases, rods for line size 4-5 are suitable for these lakes. However, it is better to have more powerful rods for the big trout, where it applies e.g. in lakes like Þingvallavatn and Skjalftavatn. Most of the time, a floating line is sufficient, but it is still handy to have an intermediate line to break the waves on windy days. Heavier lines are not used so much, rather flies that reach deep down into the lakes. In most lakes, it is allowed to use rods for spinners and worms as well.
Images: Elli Steinar and Guesthouse Vestmannsvatn
A news by Veiðiheimar